Service plans are an attribute that you can assign to all users under your license to determine the features and limits they will have access through their OnSync account. For example, at Digital Samba we've designed the PRO service plan, which grants users accounts with:
Rooms for up to 50 concurrent users
Media library up to 500 MB file space
50 recordings
Branding

API

Dial-in
You can create and modify service plans by going to the Service plans tab on the left side of the admin account center. This will make a new page load showing you a list of the current plans on your license. If you recently acquired your admin account, this list will probably be empty for you to create your first service plan.
From all of the plans within your license, you will need to choose one to act as your default. All new user accounts that you then create will be granted access to this default service plan unless or until you specify otherwise. In the example below – service plans are set up so that all new users get the FREE plan (default).


Once you have created one or more service plans you will be able to see information like the amount of users subscribed to that service plan and whether or not it is your default service plan.
If you want to create a new service plan, click on the "Add Service Plan Template" button, which will open a form with fields for all the permissions and attributes you can give to your users, just like we previously described for the PRO plan. Start by naming your new service plan and then give it shape by filling out the remaining fields. Below is an example of what a properly filled in template should look like.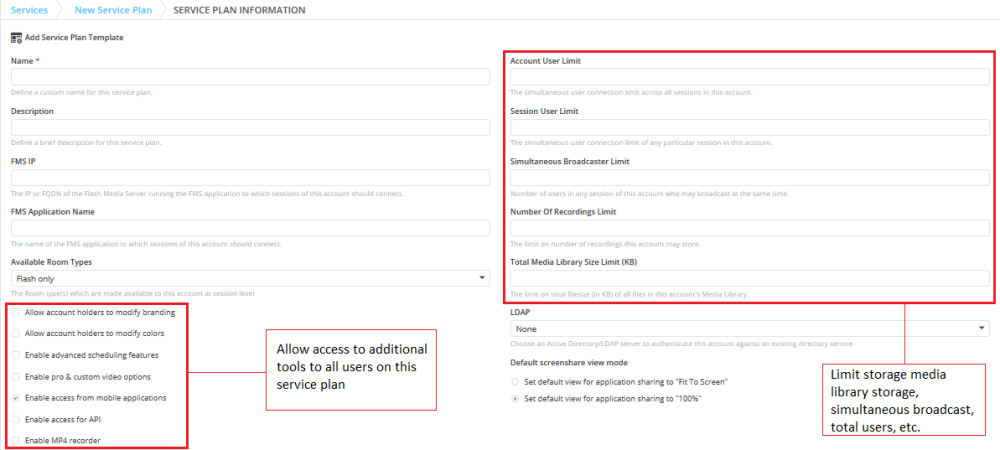 To modify an existing service plan you'll just have to click on it on the service plans list, and the same form with all the information typed in will appear to describe that specific service plan. If you want to make changes just mark/unmark any boxes you wish and restore values as desired. Once you're done just click on save or update. All users on that service plan will then have the updated permissions and storage limits.
Feedback
Thanks for your feedback.